"Mentoring is a brain to pick, an ear to listen, and a push in the right direction."
John C. Crosby
My Mentors
My dream of starting my own 'Little River Duck Dog' Kennel was solidified in 2007 after meeting the founders of Littleriver Kennel, Jim & Deanna Jeffery and their Tollers.
After researching and speaking with Veterinarians and Breeders over the last 4 years the one bit of advice in common was: "Get a mentor" so once again I contacted them.
Littleriver Kennel Permanently Registered began breeding champion Nova Scotia Duck Tolling Retrievers in 1969, giving this kennel the distinct honour of being the longest serving Toller Breeder in the world!
Deanna, Jim's wife and partner has always been their kennel representative in the dog show ring since the beginning, sharing in the love and work they do with Tollers.
Words cannot express my gratitude to Jim & Deanna for agreeing to be my mentors, to guide and advise, as I enter into the Toller world. The only way I could begin to describe it would be if Bill Gates let me apprentice under him or Albert Einstein was tutoring me in math.
It will be an honor to be mentored by the Masters.
Barbara Blauvelt
Scotiapride Tollers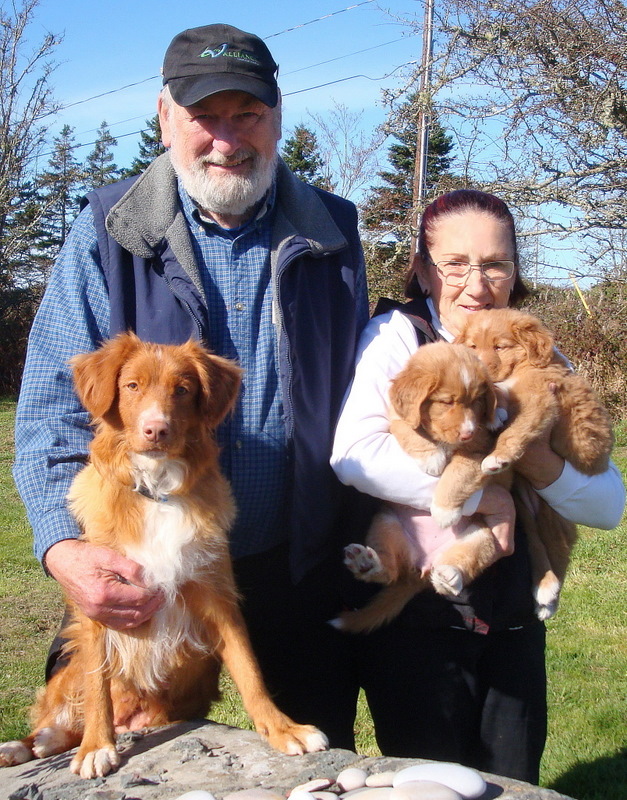 Jim & Deanna Jeffery with LittleRiver's Karma & her pups
"I feel the same way about Tollers today as I did back in 1969 when I started out.
I am so proud that the breed was developed here, (Yarmouth NS)
where I was born, in a place I have always been proud to call home.
They are what we are. We share the same heritage."
-Jim Jeffery
~